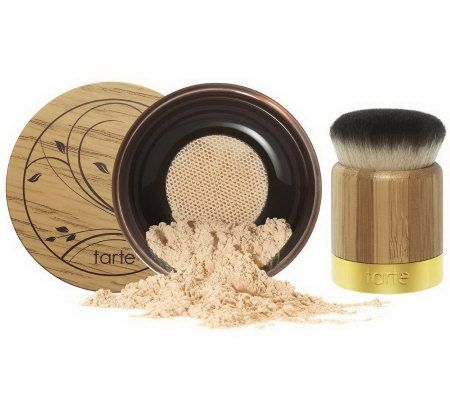 Another powder foundation?  Really?  Haven't we already been here?  Well, I guess not, particularly not for Tarte.  The Tarte Amazonian Clay Full Coverage Powder Foundation is the brand's first ever full-coverage powder foundation enriched with Amazonian clay and gemstones.
According to the website, Why is it different: This finely milled powder offers eight hours of full coverage with a skin-balancing formula that delivers a natural-looking finish that won't settle into fine lines or wrinkles. The moisture-rich, weightless foundation buffs on smooth and allows your skin to breathe! Thanks to Amazonian clay and gemstones, the foundation reawakens and invigorates skin tone and texture for a more youthful-looking complexion.
I really wanted to like this product.  I really enjoy the Tarte Amazonian Clay products, and the AC foundation is one of my favorites.  Unfortunately, I just didn't like this one.  When I first applied it, I loved the way it looked.  I even liked it more than Bare Escentuals, which I have not been enjoying as my skin has changed as I get older.  Using the traditional technique of dab, tap, and buff, it initially looked flawless.
At first, it looked great.  It absorbed the excess oil on my nose, and looked great.  For a while.  but then…a few hours later, it started to look patchy and flakey.  By the end of the day, I had patches of powder, nad patches of uncovered skin.  YUCKO!
The brush was great, and the packaging was helpful, since just the right amount came out.  But, the wear just wasn't there.  Having tried it with both primer and without, it just didn't do it for me, so back it goes.
Grade:  D.  Disappointing.  For $44, I expect so much more and will spend my money on other brands for a loose product.
This one just didn't make the cut.