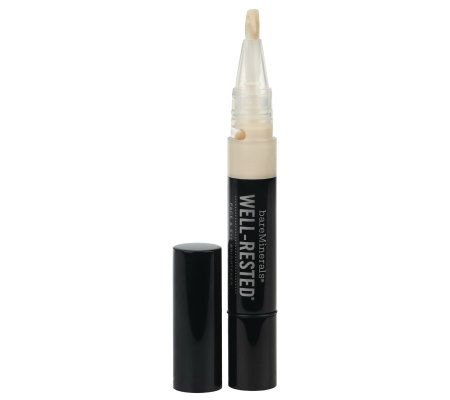 Have you been sleeping lately?  Well, no, me neither.  Life's little stressors, insomnia, work, all the things that get to us – or even sometimes just your body's natural chemistry or genetic luck of the draw, sometimes we need help to hide those dark circles.
There are dozens of brighteners and highlighters out there, but the best of them actually counteracts the blue black color of those shadows.  Bare Minerals makes one of the better products out there, a loose mineral powder called Well Rested.  Well Rested, in the original loose form, is a creamy mineral powder with a pale buttery yellow color.  The yellow counteracts the blue, and brightens up those dark places.
Unfortunately, if you're like me and you're getting a touch long int he tooth, or if you have dry skin, the loose minerals can tend to settle in the cracks and creases adn make the under eye area loose crepey and wrinkled.  No thanks!
Thank goodness the team at BE has coem up with a fantastic solution!  Well rested now comes in a creamy liquid form, in the now iconic (from other manufacturers) pen.  This new formula is translucent but still has the yellow tone which is important for counteracting dark areas.
The creamy liquid is a blend of mineral powders, as well as antioxidents like Vitamin E, which brightens, lightens, and treats those areas.  You can use it before your mineral foundation, or after your liquid foundation to illuminate areas you want to highlight.  The benefit of the pen format is that you can reapply at any time during the day for a little boost.
Keep in mind this is not a concealer.  If you have serious darkness, or problem areas, you will need to use a concealer in addition to the brightener.  I also own Touche Veloutee, which is a brightening concealer.  While not as natural as Well Rested, that product is truly a concealer.  Well Rested is intended as a brightener only and not to provide full coverage.  Well Rested has no shimmer so it's a great way to subtly highlight and is half the cost of any other similar product.
Note:  I did take pictures but you really can't see it on camera.  It's a very subtle highlight, illuminating glow without shimmer.  I plan on experimenting with mixing this in iwth my traditional Well Rested for a creamier coverage.  Other similar products that I will try:  Tarina Tarantino Eye Dream Hyperlight; Mally Perfect Prep Undereye Brightener
The Well Rested Face & Eye Brightener is available at QVC.  1 fluid ounce is $22.  Since a little goes a long way, this should last you a while.
Happy glossing!