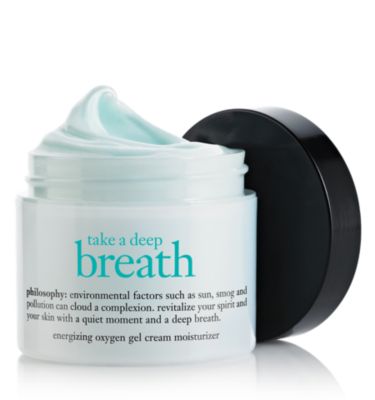 It's summer, and it's time to shake up my skin care routine.  I have been a 2 year fan of Philosiphy's Hope in a Jar, and I really feel like the combination of products I have been using have helped to change my skin and make it look better, healthier, and younger.  That said, you need to change your products once in a while.
Now, I am a Philosophy Girl, through and through, but I dabble in other skin care lines to see if there is something new or something else.  Yet, I keep coming back to the these products.  Having spent years with no so great skin, I became a Philosophy Girl two years ago when I was suffering from some terrible winter eczema, with dry flaky patches on my skin.  Eek!  After a lot of hits and misses, I found Philosophy and embarked on a face changing regimen of Purity, Microdermabrasion wash, Hope in a Jar, and the Miracle Worker collection. It made a huge difference in my skin.
As my jar of HIAJ got emptied – and let me tell you it took a long time since I bought the jumbo size on sale – I was debating on refilling the same product or trying a new one.  After doing some research, and finding that sadly, HIAJ and Purity both contain parabens, I decided to find a new moisturizer.
Having already run out of my night time staple of The Miracle Worker moisturizer, I started using Maracuja oil as my night treatment.  Heaven!  But more on that later.  So, when Philosophy had a 30% sale (which happens often), I coupled it with ebates, and picked up the Take a Deep Breath Oil Free Energizing Oxygen Gel Cream Moisturizer.
Oxygen is huge in the skin care industry right now; from oxygen facials to oxygen boosts, and oxygen products, the use of oxygen to ward off free radicals and environmental gunk is a big trend.  Couple this with a Vitamin C treatment (the ultimate in anti oxidents), and you are protecting your skin and keeping it smooth and fresh.
Oxygen revitalizes the epidermis and stimulates cellular growth by increasing cellular proliferation. It will kill surface bacteria, deep anaerobic bacteria and fungus. Oxygen will supply energy to the epidermis and to the dermis, helping to heal any small wounds and irritations. In the dermis, it will help produce collagen and elastin and help restructure the extracellular matrix. Oxygen is a micro nutrient and it will assist with many metabolic processes in the skin. Lastly, it is critical for many enzyme reactions, and the presence of oxygen can often accelerate these reactions.
I love the way this product feels!  It is so light and airy, and yet super moisturizing.  In the summer, you typically want to lighten up your moisture routine since you body is naturally producting more oils in the heat.   This moisturizer is a refreshingly cool, lightweight surge of moisture that absorbs so quickly.   It does feel slightly tacky at first, but that goes away in a minute or two, so you can be ready to apply your favorite makeup.
According to Philosophy:
Take a Deep Breath will breath new life into your skin with take a deep breath oil-free energizing oxygen gel cream moisturizer. this lightweight hydrator detoxifies and helps protect for a healthy-looking glow.
helps diffuse energizing oxygen for glowing skin
blend of antioxidants helps protect skin against environmental attack
provides oil-free, lightweight hydration
lightweight gel cream hydrator helps diffuse energizing oxygen to the skin as needed for a a healthy looking glow
enriched with a blend of antioxidents to help protect skin from environmental attack
oil-free formula leaves skin feeling smooth, refreshed, and comfortable.
There are no parabens in the Oxygen moisturizer!
$34 for 2 ounces but I suspect it will be in a larger format jar or in a kit very soon.  I purchased this via a 30% coupon, which you can get by signed up for Philosophy's email list.