I have been in a bad pattern lately, stress eating, ordering too much takeout, and just not thinking about what I'm eating . As a result, some of the weight I lost in 2012 have found it's way back to me.  While I don't generally dwell on the numbers, I do worry about my overall health and am determined not to let the battle of the bulge be lost to stress and depression.  No sirree!
Luckily, the good folks at Cedar Fort Publishing and Dalyn Miller Public Relations have given me inspiration and ideas on how to cook great food both on a budget, and with the magic of my slow cooker.
Paleo has been trending for a few years now, and in my opinion is bascially Atkins / South Beach / The Zone / Sugar Busters /Whole9 on steroids.  In fact, my research shows that pretty much every "trend" diet is the same, with a few tweaks.  That said, I like that the Paleo lifestyle emphasizes all natural, high protein, low or no carb foods that are unprocessed and full of flavor.  Yay!  If you know me, you know I've always battled the bulge, and while I am passionate about wine, food, travel and cocktails, I still need to balance it with health.  I'm happy to say a Paleo-like plan helped me immensely in 2012, and I'm ready to reboot in 2014.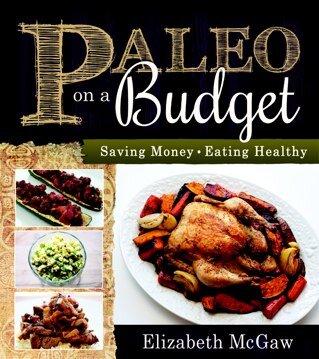 The first cookbook, Paleo on a Budget is full of recipes that are friendly on the wallet, as well as your eating plan.  After flipping through the pages looking for a few good recipes that I could make and save (a single gal's secret weapon), I went with Pork Loin Chops with Apple Cider, and Onions.  I paired that with scrumptious Brussells Sprouts & Bacon in Balsamic Glaze.  Yozah!  As someone who has ALWAYS said I would never eat Brussels Sprouts since they reminded me of the dirty gym socks that my mother tried to pass off when I was growing up, I was impressed and amazed at what they could actually taste like.  And they were legitimately Paleo!  Well according to my version anyway.
Paleo on a Budget is a beautiful cookbook with full page pictures and easy to understand instructions, in well thought out recipes that won't take 3 hours to prepare.  Author Elizabeth McGaw runs the Paleo on a Budget webiste, with handy weekly meal plans and advice for the Paleo beginner (me!).
I paired the yummy pork with both an Oregon Chardonnay, as well as a lighter Piniot Noir.  Both worked well and brought out the fruity notes of the apples and cider vinegar.
The Paleo lifestyle can be super strict or not so much, and while I'm not going to go in to the details of the plan here, I will say that it can go from no grain, no butter (but ghee is acceptable), no fermented foods (the horror  the horror!), to a somewhat looser version where bacon, the occasional glass of wine, vinegar and other foods are allowed.  Since I firmly believe that every in moderation is crucial, I tend to adapt the plan to suit my wine filled lifestyle while still maintaining the core values and the  intention of losing weight and getting healthier.
The second Paleo cookbook that I received is my secret weapon:  The Paleo Slow Cooker, by Arsy Vartanian, is a great way to keep on track with just a little planning ahead.  I don't use my slow cooker enough, and this cookbook has been a great nudge to pull it out of the cabinet and leave it on the counter.    Another beautiful cookbook, with full page images of the creations, the use of the slow cooker makes planning ahead easy.    
I tried the Honey Mustard Caveman Drumsticks, which were savory, sweet, spicy, sticky and downright delicious.  I halved the recipe and still had plenty to put in the fridge, and they keep very well.
Pair the Drumsticks with an off dry Riesling or Viognier for a pop of flavor.  Enjoy these recipes with a glass of wine and plenty of water, and toast to good health and tasty food in 2014!
What are your favorite healthy recipes?
These cookbooks were provided by the publisher or PR agent for consideration.