This week, I'd like to introduce you to guest blogger Diane Mary.  Diane is a makeup addict (arent' we all?) from Staten Island, New York, and loves to try new things.  Her favorite brands are Tarte and Laura Geller, as well as IT Cosmetics and Mally.  Diane can be found under the YouTube handle

CurlyWavyDiane

.  Please check her out!
I don't know about you, but personally I think bronzers are one of THE greatest inventions of all time! I'm naturally white as chalk and make Casper the Ghost look as if his skin has pigmentation. As soon as I learned what a bronzer was in my late teen years, I became hooked and haven't been able to survive without it since! Some may like bronzing just in the summer, but for me it is a year round, 365 days a week thing.
I admit I do self tan as well (but that's a whole different article) but the benefit to bronzers is that there is no commitment. It comes right off with cleanser and water so if you are unhappy with your results you lost nothing in the process.
Now, using a bronzer can go one of two ways- it can warm up your skin, making you look nice, healthy and tan without the harmless effects of the sun OR it can go bad and make you look orange, dirty and like a Jersey Shore cast off.  A quality bronzer makes a world of difference. They come in several formulas including powders, mousses, and liquids. Here are some of my favorites (in no particular order) You can be crazy like me and use a mousse and liquid and then a powder on top of it (bronze-a-holic much? Guilty as charged.) but just using one formula at a time will also product nice golden results.
The traditional way to apply bronzer on the face is making a "3" on one side and an "E" on the other. This allows the bronzer to go on your face where the light would naturally hit it. Personally, I apply bronzer all over like another layer just so I am even and golden but play around and find what works for you!
Josie Maran Bronzing Argan Oil –  Since I started using Argan Oil, it's changed my skin in the most wonderful way. I have combo, breakout prone skin and it's cleared it up. But once I saw there was a bronzing version of this oil I jumped ! Though it is an oil it absorbs into the skin right away and leaves me looking  2 to 3 shades darker. It does have some sheen to it, so don't be surprised. I like using this before foundation.
Laura Geller Air Whipped Bronzer –  Ok, this might very well be my holy grail bronzer. The bummer part is I recently found out it is being discontinued so if you are like me and LOVE this, run and buy them while you still can. Why is it so amazing? It has the most unique light as air mousse consistency. Feels like you are wearing nothing when you apply it, it just melts into your skin and it also provides a little coverage! There have been days I've gotten away with just wearing this and no foundation. I also love the fact this is hydrating and full of vitamins for the face. It comes in two colors for lighter and darker skin tones.
Laura Geller Tahitian Glow Body Frosting. I just brought this with me on a weekend trip and when I posted the pictures online, quite a few people asked me what I did since I was "glowing" This was my secret. It is a powder that started it's life as a cream and it extremely versatile. You can use it dry with a brush or if you want darker color you can wet the puff it comes with. This bronzer can be used for the face and the body and will not rub off on clothes! What's neat too is that it is multi colored so it is almost in a way customizable. This one also doubles as a beautiful eyeshadow.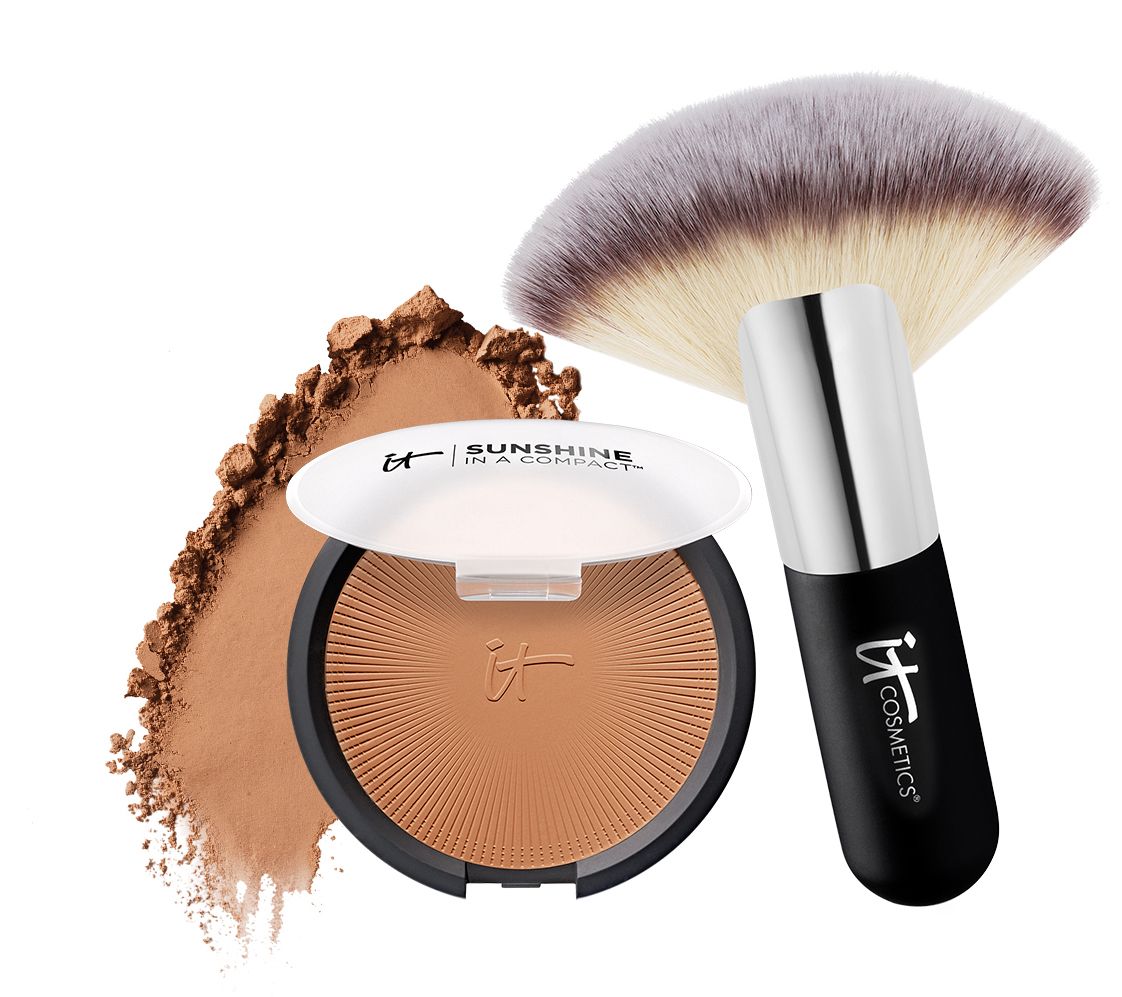 IT Cosmetics Vitality Glow Anti Aging Matte Bronzer - I've been using this from a face disc on and off for months, so I was so happy to see it released in a press version on it's own. The compact it comes in is HUGE!!! IT also has a loose powder matte bronzer which I have not tried, but I like things pressed because I find them neater and more travel friendly. This bronzer is completely matte. You won't find a single piece of glitter, shimmer, sheen or sparkle. In a bronzer, that's a good thing. It looks like your own skin and also can double as a contour powder. It doesn't settle into lines or pores and makes my face look airbrushed. The bronzer is talc free and full of yummy healthy skin ingredients including collagen, peptides, vitamins A, C, E, silk and much more!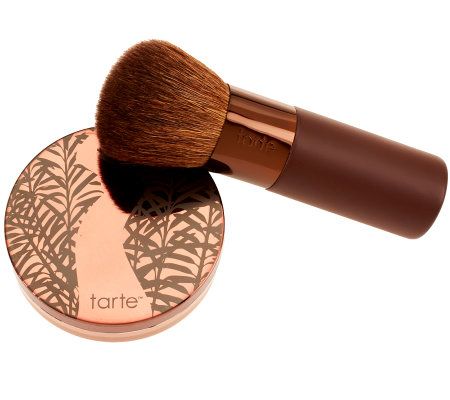 Tarte Cosmetics Globe Trekker Bronzer - When I first tried this, I thought it was too light for my skin but after using it a few times I actually think it is a perfect color. Though I wouldn't mind this one being a bit darker, so that being said lighter complexions who are nervous to bronze should love this one. This is a creamy consistency, similar to the Laura Geller air whipped bronzer I mentioned earlier. The brand calls it "cream to powder" It reminds me of an under eye concealer. To me, it smells like microwave popcorn which is awesome. You can apply it with the brush it comes with or your fingers. I like using my fingers because I feel it warms the product up. This is another bronzer that has coverage and I can get away with wearing it without foundation. It includes one of tarte's signature ingredients, Amazonian Clay which is "skin smart" and balance out your skin whether it is dry, oily or combination. And like all Tarte products, this one has nothing icky like parabens, mineral oil, phthalates or SLS. It is matte with maybe the slightest amount of sheen. To me, It's hardly noticeable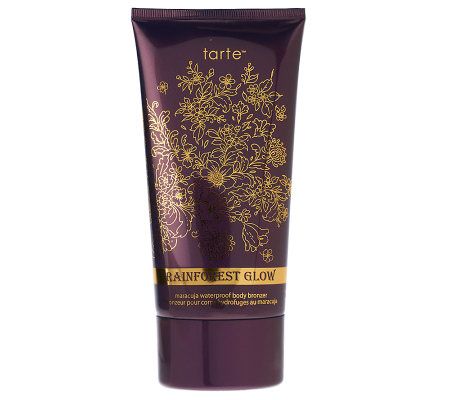 Tarte Rainforest glow maracuja waterproof body bronzer This is relatively new and sold out constantly on QVC. I'm so glad I managed to get one. Dubbed a "body bronzer" I also like this one on my face. It is another mousse consistency that comes out of a tube and again, has slight coverage (I see a pattern with bronzers I like. LOL) This is one I would also apply before foundation. It has Maracuja Oil in it which is said to help firm, brighten and make the skin nice naturally. Who doesn't love makeup with skin care benefits? I have tried this one on my body as well and it didn't get on my clothes. I can't backup the waterproof claim since I didn't get wet with it on until I got in the shower and washed it off with soap. This is perfect if you have to wear a skirt and realized you didn't self tan. It can be applied last minute without streaks.
Laura Geller Spackle tinted under make-up primer in bronze Okay, this isn't a true "bronzer" but a primer that is tinted bronze. Nonetheless, I love it. Since I am going to be using a makeup primer anyway, why not have one with bronze tint to help feed my hungry bronze-craving soul? This primer does help makeup stay on longer and the tint is a light bronze. My boyfriend actually uses this to even out his skin and likes it because it doesn't look like there's any makeup on. (Sorry I called you out babe)
Stila one step bronze- this applies the same way the spackle does. It is a primer with a bronzer built in and not only that but this one also includes an anti aging skin serum! Triple whammy!! It feels nice on the skin and brightens, bronzes and color corrects. I sincerely hope whoever invented this over at Stila got a nice raise or bonus for coming up with this thing! It's genius.
Maybe you notice a pattern with the bronzers I like. I prefer them without any glitter or sparkle and like when they have anti aging, good skin benefiting ingredients in them. I hope I have encouraged you to give bronzing a try, even if it's just for a special occasion!
Thank you to our guest blogger for this week for all these great ideas!  Stay tuned for more summer makeup tips!  Please check out Diane's bronzer video as well!