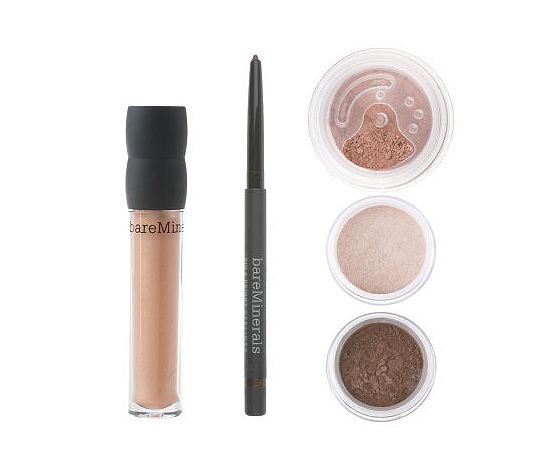 Bare Escentuals!  Last weekend, BE was on QVC for a marathon of shows.  Included in the QVC exclusive kits was
Nude Attitude
, a 5 piece neutral kit which include the coveted (and hard to find) Nude Beach Matte eyeshadow.  Also included were a Charbronze Big & Bright eyeliner, In the Nude Matte eyeshadow,  100% Natural Lipgloss in Nude, and Applause Blush, a deep nude canyon color for $36.  Unfortunately, it sold out on the air.  I expect that some of the components will show up again (Charbronze is open stock for example) given the popularity, but I am glad I snatched this one up!
Nude is HOT right now!  You probably know this, but I love my nude kits, including the UD Naked Palette and other nude looks.  They are the easist to master, and are fairly goofproff, as well as great for every day.
This kit arrived a few days ago, and I decided to pop it up a little today with Queen Tiffany Matte, Celestine, and Pretty Amazing in Free Will, a pink nude, with Starr Buxom over it to give it a touch of color.  Healthy Radiance to contour, and the new Advanced Clear Radiance over Golden Fair Matte foundation.  This gives me a nice golden glow, which looks healthy without tanning.
Wowzah!  This could be my new everyday look, with various color changes for the countour crease.
What do you tink?  How do you nude?
Nude Beach Matte is a soft sandy matte nude – foiled on the lid.
In the Nude is a deep brown nude – in the crease.
Queen Tiffany Matte is a chocolate plum nude – in the outer v and over In The Nude on crease.
Celestine is a sparkling champagne nude -used to blend.
The Sure Thing is an almost matte plum brown – wetlined.
Turn On – is a pink nude highlighter – used on browbone and inner corner.