You already saw the Bare Escentuals shows this past weekend.  Well hold on to your hats!  Today is the pre-sale of the Smashbox TSV.  If you're a Smashbox fan, I've been told you shouldn't miss it!  I'm still on the fence, what do YOU think?

Smashbox Ready For Your Close Up
Halo Hydrating Perfecting Powder – I haven't tried the Halo yet, but people that have seem to love it.
Eye shadow quad in On Stage.  A similar trio pictured at right




Red Carpet Radiance Palette (

MatteFlush

, 

ShimmerFlush

, 

MatteRaspberry

, 

ShimmerRaspberry

, 

ShimmerQuartz

)




Lip glosses in Hot Shot, a shimmery pink, and Idol, a rosy plum
Waterproof Shadow Liner to Go chubby pencil in Luminous Fig, a chocolate plum that looks more brown than the

tarte

Fig

EmphaEyes that came in a recent TSV.

Halo Baby

Buki

Brush
It is a bit of a pricy TSV at $74.94 and I'm still on the fence,  But when you look at the retail cost for Halo ($59) and the Red Carpet palette $42, you are already beyond hte TSV.  Add in the other pieces and the retail value is well over $100.  I"ve seen and read many reviews by other beauty bloggers, and it seems that if you are in to Smashox, these TSVs are not to be missed!
September 9th Laura Gellar is having a TSV but she's keeping it pretty hush hush for now.  The Insider says it's a 6 piece Bake Sale Collection, so I might have to skip it with my other collections but we'll see as soon as we get pictures!  I have been falling in love with my Laura Gellar Vanilla Nudes kits, and the eyeshadows are to die for!  They are the most pigmented, beautiful things I've seen n a while.
The big news comes with a Mally TSV later in September.  The Mally Defend Your Beauty Collection brings back the travel size Poreless Face Defender (YAY!) my favorite anti shine weapon.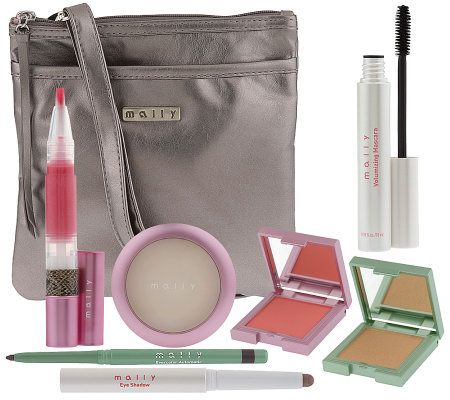 Also included:
**NEW** Face Defender

Blushin

Pink Perfection.
**NEW** Face Defender Highlighter in

Gorgois

Glow

Volumizing

Mascara in Black

Volumizing

Lip Gloss in Flirty

Evercolor

Automatic Eyeliner in Black Cherry

Evercolor

Shadow Stick in Violet – I can't wait to try the shadow stick!  I'

ve

been eyeing them for a while, a

nd

they seem like a fantastic way to get a waterproof eyeshadow in a great to go format.
Preorder: 1 time shipment | Auto Delivery in January & May I actually cancelled my last Share the Love AD so I could get this.
September 23rd:  A220348
More pictures as soon as I get them!  I look forward to sharing the goodies once I get them.
Don't forget to use Ebates (affiliate link) to save 2.5% off your orders!
Happy glossing!