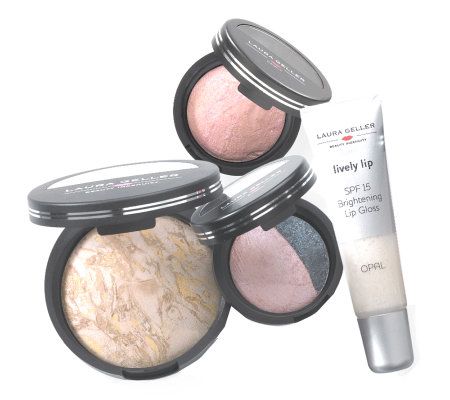 It's true, I admit it – at times, my skin can be…uneven, hard to match, difficult!  I've been eying the Laura Gellar Balance & Brighten baked foundation powder for a while, but I just couldn't bring myself to spend $30 on another product.  I had planned on using my Drugstore.com dollars (a loyalty program) to buy this product in Jyly, but as it happened, Laura Gellar was on QVC over the Memorial Day Beauty extravaganza, and I nabbed a kit that had the B&B in it.
Regularly priced at $31 for .32oz of baked powder in a compact, the kit I picked up is called "Do the Bright Thing" and included the full size Balance and Brighten, an eye duo, blush, and lipgloss – all of this for $39, and no shipping on the special weekend! Woot!  Since I basically paid for the B&B and maybe half of hte lip gloss, I got a steal.
This collection claims that it will
brighten your complexion as well as your day
Well, ok!  The powder is a baked cream concoction that starts its life in Italy as a rich cream, which is swirled with multiple colors and then basked on Terra Cotta tiles until a solid.  It's quite unique as you can see, because there are many colors in one.  I am a "regular",which quite frankly, I thought might be too dark – it's absolutely a PERFECT match when I swirl my brush over the entire surface.  The lighter pigments brighten and highlight, and the darker pigments cover and pigment.  You can take a smaller brush and use the different areas of the color to do contouring and highlighting as well.  The creamy texture actually feels more like a liquid foundation, and I'd call it medium coverage.  It's quite luxurious and I just love it.
Today I wore:
Benefit Primed & Poreless
Tarte Amazonian Clay Calming Conceler in Medium
Laura Gellar Balance & Brighten in Regular all over face
Laura Gellar shadow in Fresco Pink from lid to brow
Laura Gellar Eye Rimz in Mystic Sea, first wetlined with BE Weather Everything, then smudged
This is a great value if you are interested in trying Laura Gellar so hop to it!
Happy glossing!